Wesleyan Engaged - Civic Engagement and Service Learning
TREX - Virginia Wesleyan University participates in the TREX school and community recycling program. Students, faculty, and staff all work together to collect and weigh soft plastic, which gets delivered to TREX and repurposed into composite. After 500 pounds are collected and dropped off, the University receives a composite bench.
Oyster Bagging - In partnership with the Chesapeake Bay Foundation, Virginia Wesleyan University students collect recycled oyster shells that are used to provide homes to baby oysters. The oysters are then placed back into the Chesapeake Bay and filter millions of gallons of water per day.
Oyster Gardening - Virginia Wesleyan community gardeners maintain oyster cages by cleaning, monitoring, and removing predators over the course of a year. Once oysters are of mature age and size, they are transplanted to a CBF non-harvest sanctuary in nearby waters.
Seed Bombs - In partnership with the Hoffler Creek Wildlife Preserve, Virginia Wesleyan students and staff make wildflower seed bombs containing a mix of native perennial wildflower seeds, compost, clay, and water. The flowers that grow will attract friendly pollinators such as bees and butterflies, positively impacting the planet.
Community Garden - In partnership with Good Samaritan Episcopal Church, Virginia Wesleyan helps support the Western Bayside Community Garden. Students, faculty, and staff help rake leaves, weed, plant, prune, and pick all of the food that is grown in the garden. The garden provides food for residents in the Western Bayside area, including the University.
Donations - During student move-out at the end of each academic year, drop-off areas are established for students to place clothes, shoes, unopened food, and small furniture items. Local food banks and donation centers then utilize these items.
---
DeFord Manor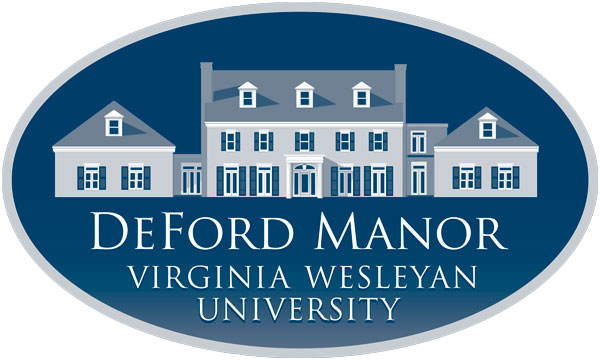 Virginia Wesleyan University's DeFord Manor has officially been recognized as a "River Star Home" by the Elizabeth River Project. The home meets a seven-part pledge to keep pollution from entering the Elizabeth River and related waterways.
DeFord Manor circle and driveway are "green," the surface helping to control runoff, prevent flooding, and replenish groundwater by allowing water to penetrate through the driveway rather than running off the top. Surface water is absorbed through the permeable driveway material, and the soil below filters the water, preventing chemicals from vehicles and other sources from getting into the groundwater or contaminating the water in storm drain systems.
---
Greer Environmental Sciences Center Native Species
The new Greer Environmental Sciences Center, which opened to students in fall 2017, has many stunning features, including the living landscapes beyond the building. A series of teaching gardens created with native plants inspired by the ecosystems of the Eastern Shore include two upland meadow gardens, three wetland gardens, and a wide variety of different plant species, including trees, shrubs, groundcover, ferns, perennials, and aquatic plants surround the exterior of the facility.
Maintaining the landscape's unique teaching gardens and plants requires special attention and expertise. Fortunately, VWU's partnership with Norfolk Botanical Garden (NBG), which was established last summer, provides just that.
---
Norfolk Botanical Garden Partnership
As part of the University's relationship with Norfolk Botanical Garden (NBG), a Director of Living Landscapes, employed by NBG, is appointed to work with Virginia Wesleyan staff, faculty, and students to provide guidance and proper care of all living landscapes and campus horticultural initiatives, particularly the area surrounding the Greer Environmental Sciences Center. While much of that landscape is designed to be low maintenance, special attention will be required to monitor establishment and progression.
The partnership is intended to be of a scholarly nature, as both organizations pursue jointly the development of research, educational, and outreach programs in the botanical sciences.
---
Energy Reduction
Temperature Setbacks
In an effort to reduce energy consumption, campus facilities are maintained at a consistent operating temperature. In addition, during periods of low occupancy, heating, and cooling systems operate at reduced levels to increase efficiency and conserve energy.
Lighting
Fluorescent and incandescent lighting throughout campus is being converted to LED
and solar solutions when possible. Motion-detection light switches are also present in campus facilities.
---
Green Cleaning
The VWU housekeeping program's strategies for sustainability include:
Making use of environmentally-friendly cleaning products that comply with either Green Seal standard GS-37 or have low levels of volatile organic compounds (VOCs) when feasible.
Options for concentrated cleaning products when they are available.
Conduct comprehensive education, training, and motivation programs for the housekeeping staff to encourage the adoption of environmentally-responsible practices and ensure that all members of the staff are fully aware of their roles and responsibilities in implementing the environmental policy.
Striving to conserve energy, water, and other valuable resources while maintaining a clean and sanitary environment.
Adhering to all applicable current legislation and industry standards.
Utilizing blue cleaning, electrically-activated water that eliminates the need for harsh chemicals, when possible.
---
Aramark - Facilities Management
Sustainable Grounds
Virginia Wesleyan University implements the following environmentally-focused practices in maintaining its 300-acre park-like campus:
Integrated pest control and management practices
Stormwater retention ponds for water and pollution management
Use of native plant species unique to the coastal Virginia region
EPA-approved weed control spray
Sodexo Dining Services
In an effort to conserve water and reduce chemical use, Virginia Wesleyan University/Sodexo Dining and Conference Services was an industry pioneer in establishing trayless dining. We also established a food waste reduction program called Lean Path which focuses on the prevention of overproduction, which has proven to reduce food waste by 50% and reduce purchases by 3%. Other practices include:
A commitment to non-food waste production through the use of reusable service ware in all resident dining, eliminating all disposable items.
Elimination of single-use plastics, in favor of recycled and compostable service items and use of cardboard recycling for all bulk food packaging.
Local sourcing of seasonal produce whenever available.
Composting/Worm Farm - Any vegetable or fruit scraps leftover from dining services' food preparation are placed into a container and collected to contribute to the campus worm farm.