VWU Institute Named in Honor of Program Founder Dr. David R. Black
David R. Black Institute for Professional Practice Encompasses Early Enrollment, VWU Online, Graduate Programs, Lifelong Learning, and Continuing Education
University News | September 18, 2023
Virginia Wesleyan University is proud to announce the renaming of its Institute for Professional Practice in honor of its founder, Dr. David R. Black. The institute, which has experienced rapid growth since its establishment in 2020, will now be known as the David R. Black Institute for Professional Practice (BIPP).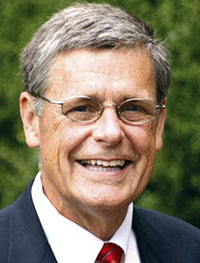 Dr. Scott D. Miller, President of Virginia Wesleyan University, made the announcement, acknowledging Dr. Black's exceptional contributions to the institute and the community. Dr. Black, a retired university president, currently serves as the Executive-in-Residence at VWU and holds the position of Chancellor of VWU Global Campus in Japan.

The BIPP, organizationally situated within VWU Global Campus, encompasses various educational avenues including early enrollment, VWU Online, graduate programs, lifelong learning, and continuing education. Notably, the BIPP collaborates closely with the Virginia Beach City Police Department, Virginia Beach Fire Department, Virginia Beach Public Schools, and Human Services, demonstrating a commitment to both academic growth and community service.

During the challenging circumstances of the global pandemic in 2020, Dr. Black played a pivotal role in developing programs aimed at assisting displaced workers in Coastal Virginia. To date, over 13,000 residents of Hampton Roads, including more than 10,000 from Virginia Beach, have benefited from these initiatives.

Dr. Black's influence extends beyond the BIPP. He is recognized as the visionary behind VWU's partnership with Lakeland University, having laid the groundwork for the campus in Japan more than three decades ago. The BIPP's collaboration with Lakeland University's main campus in Wisconsin has paved the way for online programs and continued cooperation between the two institutions.

Virginia Wesleyan University is dedicated to providing accessible education through its BIPP. This initiative has witnessed remarkable growth, including offering no-cost in-person and online workshops and courses in conjunction with the Virginia Beach Department of Economic Development.

"As Virginia Beach's cornerstone institution, deeply rooted in the city's history, we take great pride in our enduring connection with Dr. Black and his impactful contributions. Over the 2022-23 period, the BIPP programs have empowered over 3,000 learners, resulting in the issuance of more than 1,000 certificates," said Dr. Miller.

Dr. Black's distinguished career includes serving as president of Lakeland University and Eastern University, with a combined 29 years of leadership in higher education. He holds degrees from Lee University, the University of Tennessee, Knoxville, and Ohio University. Since 2015, he has been the Executive-in-Residence at VWU.

For more information about upcoming programs, please contact Marion Hibbler, Director of Lifelong Learning at VWU Global Campus (mhibbler@vwu.edu). Businesses in Virginia Beach seeking potential collaborations are encouraged to reach out to Larry Belcher, Director of Innovative Partnerships and Enrollment at VWU Global Campus (lbelcher@vwu.edu).