The Hive: A Beacon of Economic Development Excellence
Virginia Beach's Collaborative Endeavor Garners International Acclaim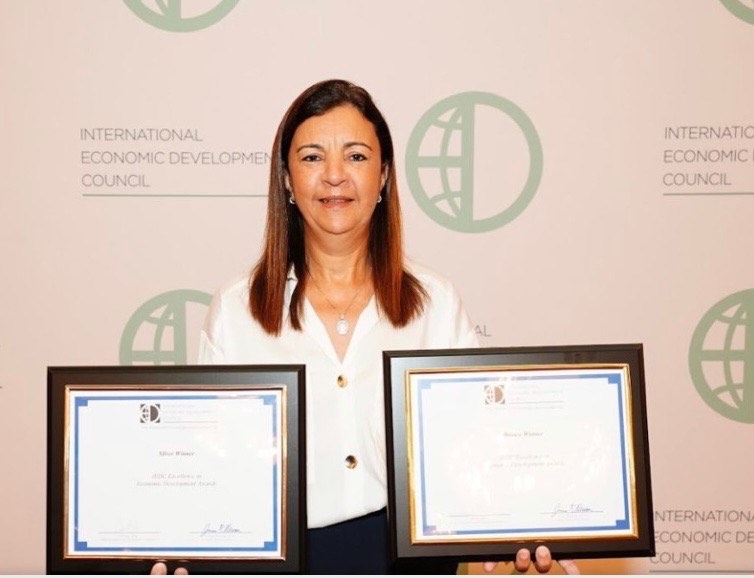 University News | September 29, 2023
Town Center is the heart of Virginia Beach, where innovation and entrepreneurship converge. Just minutes from campus, a remarkable partnership has emerged to drive economic development. Known as "The HIVE," this business resource center has become a symbol of progress, garnering accolades on the global stage.

In a recent triumph for the City, The HIVE — a collaboration of Virginia Beach Economic Development, Virginia Wesleyan University, and Tidewater Community College (TCC) - Virginia Beach — clinched multiple honors at the International Economic Development Council (IEDC) 2023 Excellence in Economic Development Awards. HIVE stands for Hub for Innovation Veterans and Entrepreneurs.

Virginia Beach's Win:

Under the visionary leadership of the City of Virginia Beach, the collective effort of these institutions yielded significant recognition in various categories:

• Partnerships with Educational Institutions (Partnerships with Virginia Wesleyan University and TCC for Talent Innovation) - Silver Award

• Entrepreneurship (The HIVE- VB Business Resource Center) - Bronze Award

• Magazine & Newsletter (The HIVE Monthly Newsletter) - Bronze Award

The HIVE, born during the challenging times of the pandemic, stands as a testament to resilience and adaptability. Situated at the corner of Columbus Street and Independence Boulevard in the bustling Town Center of Virginia Beach, The HIVE offers mentorship, networking opportunities, and essential resources, fortifying the city's entrepreneurial ecosystem. It nestles among the region's thriving businesses, reaffirming its pivotal role in the Central Business District.

Acknowledging Visionary Leadership:

"As Virginia Beach's university, we are proud of this unique relationship which has benefited thousands of Virginia Beach citizens and businesses," said Dr. Scott D. Miller, President of the University. He expressed gratitude to key figures such as Taylor Adams (former Deputy City Manager), Amelia Ross-Hammond and her colleagues on the Virginia Beach City Council, and Ihsane Mouak (Business Development Coordinator, Virginia Beach Economic Vitality Portfolio, Department of Economic Development, City of Virginia Beach) for their visionary leadership in the establishment of this unique partnership.

Mouak highlighted the invaluable support and contributions from the Virginia Beach Economic Development team and their business resource partners, attributing their joint success to the strength of their partnerships.

A History of Collaborative Innovation:

Founded in 1961, Virginia Wesleyan University, the city's oldest institution of higher learning, joined hands with Tidewater Community College-Virginia Beach in 2017 on the "Tidewater Promise," a program that revolutionized higher education accessibility. This collaboration allowed students to access resources on the VWU campus while pursuing associate degrees at TCC, guaranteeing tuition costs and affordable four-year bachelor's degrees. TCC is the second oldest oldest institution, chartered in 1968.

In 2020, The HIVE became an extension of this successful partnership, further solidifying its commitment to workforce development and education. In 2023, VWU announced the David R. Black Institute for Professional Practice to include all non-credit continuing education programs and new Virginia Beach-specific programs with Virginia Beach Public Schools and the Virginia Beach Police Department.

Impact on Coastal Virginia:

Over the 2022-23 period, VWU's portion of the partnership served 2,600 learners, leading to the issuance of more than 1,000 certificates. Since its inception in 2020, the program has positively impacted over 13,000 Hampton Roads residents, with more than 10,000 from Virginia Beach reaping its benefits.

During the 2022-23 academic year alone, approximately 1,700 participants engaged in workshops and programs at The HIVE, VWU's Talent Development Center on campus, and on-site at area businesses with an additional 900 participants accessing flexible Workforce Development offerings through the VWU Online platform.

The VWU Transformation:

Virginia Wesleyan University, under the leadership of President Miller, embarked on a transformative journey in 2015. This evolution introduced innovative learning paths, including early enrollment, online courses, graduate programs, and continuing education. In 2017, it became Virginia Wesleyan University, expanding into online and graduate programs, including the prestigious Batten Honors College.

Subsequent years saw the introduction of the Westminster Wesleyan Lifelong Learning Institute, the collaborative campus in Tokyo (Lakeland University Japan / VWU Global Campus), and the David R. Black Institute for Professional Practice, consolidating continuing education programs and local partnerships. The program has also led to the development of an educational partnership with the Virginia Beach Police Department.

Impressive Milestones:

In the 2022-23 academic year, the David R. Black Institute for Professional Practice saw 2,609 learners completing courses, while the traditional College of Arts and Sciences enrolled 1,600 students. Altogether, over 4,200 learners embraced VWU's diverse offerings across locations and formats.

In Virginia Beach, The HIVE and VWU have not only established themselves as leaders in education and economic development but have also demonstrated the transformative power of collaboration. As they continue to empower individuals and businesses, their journey serves as an inspiration for communities worldwide.