Batten Honors College Scholars Take First Place in IEN National Competition
Congratulations to Rowan Stuart, Jessica Wilson, Connor Merk, Kai Trehan and Eddie McDonald.
University News | May 2, 2022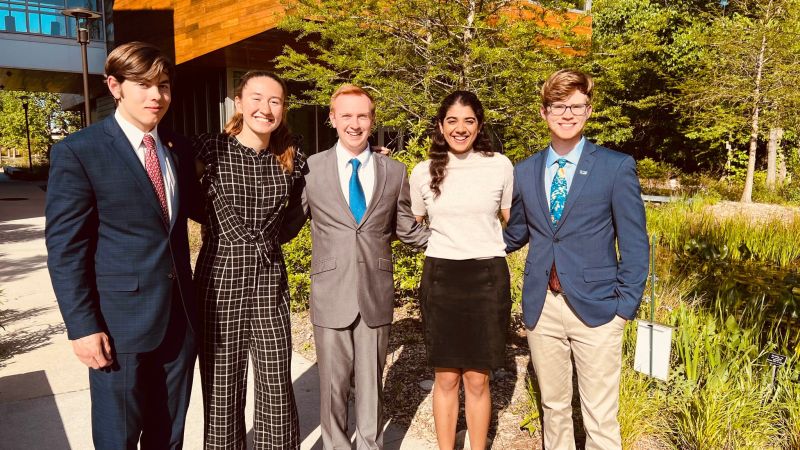 Scholars from the Batten Honors College of Virginia Wesleyan University took first place in the undergraduate division at Intentional Endowments Network's Student Corporate Engagement Competition on April 29. Congratulations to the student team of Rowan Stuart, Jessica Wilson, Connor Merk, Kai Trehan and Eddie McDonald.
According to IEN's website, the Student Corporate Engagement Competition is a first-of-its-kind student investment competition in which students pitch an investment in a publicly-traded company, and include in that recommendation a shareholder engagement strategy focused on addressing inequality and the climate crisis, as they are systemic risks that threaten a healthy society, and in turn, healthy portfolio returns.

Students participating in the 2022 competition built off of the inspiring real-world engagement work student teams initiated in previous years, and continued to create outsized impact both on how their college or university endowment invests, and on the actions of corporations.
VWU's team chose to study Ford Motor Company. The team noted that Ford's corporate commitment to Electric Vehicle production, changes to U.S.-based manufacturing, and commitment to reduce waste and emissions made it a worthy consideration for investment. The team also proposed a shareholder strategy that included the development of EV-Lithium-Ion battery recycling program through Ford's factories and dealerships.
IEN provided each student team with a professional mentor, according to Dean of the Batten Honors College Dr. Travis Malone. The VWU team's mentor was Marcela Pinilla - Director of Sustainable Investing at Zevin Asset Management.
VWU's team competed against nine other student teams from colleges and universities across the U.S. and Canada including: Arizona State University, Bard College, Central Washington University, New York University – Stern School of Business, Presidio Graduate School, Ryerson University, University of California Berkeley – Haas School of Business, and University of Minnesota.
During the finals, the top two teams in both the graduate and undergraduate categories livestreamed their presentations as they presented their final deliverables and discussed their cutting-edge strategies to improve company business performance and impact on society. Connor Merk served as the team lead for Virginia Wesleyan. The judging panel then had the opportunity to ask questions in areas including research and due diligence, embedded ESG analysis, and shareholder engagement strategy.
"The judges for Friday's competition included investment professionals from TIAA and Federated-Hermes," noted Malone. "They applauded the team's professional presentation, the boldness of their company choice, and the strength of the proposal."
VWU's endowment has grown to $126 million this year with $83 million designated for the Batten Honors College. Utilizing IEN standards, the VWU endowment is entirely invested in an environmentally friendly way with Brown Advisory of Baltimore, Maryland.
Read more about the Intentional Endowments Network's Student Corporate Engagement Competition.